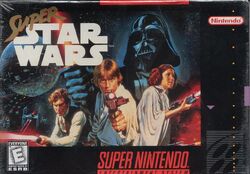 Before I begin I'd like to thank the wonderful folks at
1MoreCastle.com
for creating
ReviewAGreatGameDay
. When not performing as a Monkees cover band or reading Choose Your Own Adventure books to underprivileged, indecisive children, they publish the best retro gaming content on the internet. They created this holiday to celebrate what is most important about video games, actually playing them. A day to proudly broadcast and review a great video game, without talk about framerates, global sales, whether your console functions as a proton pack or can generate enough power to reach 1.21 jiggawatts, which we all know is what makes time travel possible.
I'm a huge dorkus malorkus for Star Wars, even going so far to order my wife to play the Emperor's March at my funeral. I annually play through the Super Star Wars trilogy on the SNES, the greatest trilogy of games on the system (I'll write about this another day). Though Super Star Wars is only loosely tied to the film, with much needed liberties taken to flesh out the platforming, it is the gunning and lightsaber slashing through the Star Wars universe that captivates me, that takes me back to the characters and worlds I wanted to explore further in the movies.
Super Star Wars begins with the traditional opening crawl featuring John Williams' brilliant score. The music in this game is some of the best in 16-bit gaming, recreating much of the same music from Star Wars. We begin with Luke blasting womprats and scorpions in the
Dune
Sea because that's what teens do when left alone in the desert with weapons
. Unfortunately we don't get to see Uncle Owen and Aunt Beru's blue milk, or hear about R2 units having bad motivators. You'll discover that in each level you can upgrade your blaster by destroying enemies or shooting certain pockets of space inside caves or above hatches for example. Luke begins with a regular blaster, but can power up to the flame blaster, seeker, rapid ion, and plasma blaster (a blaster that could rival Samus' arsenal). From here you pilot a landspeeder to blast Jawas en route to the Sandcrawler to blast some more filthy Jawas. The Sandcrawler stage is your first true platforming test while battling flying droids, Sandcrawler guns, and Jawas, who must be taken seriously because they're holding a thermal detonator! Fall from any platform and you basically need to start the level over. After your first boss battle inside the Sandcrawler to rescue R2-D2 a cut-scene plays Princess Leia's message to Obi Wan Kenobi. The cut-scenes are extremely well done and look incredible on the SNES, while moving the story along. In the next stage you blast frogs that poop a sticky residue when killed, more womprats, Sandpeople, and my most hated enemy in video games: flying birds. The flying birds attack when Luke is jumping across the canyon of hanging rocks. When you reach the end of the level you are greeted by Old Ben, who gives Luke his father's lightsaber. Remember kids, as we've learned in The Legend of Zelda and Super Star Wars, seek out old men in cloaks/tunics. They are bound to give you a weapon. With Old Ben giving you guidance, the next stage is to familiarize yourself with the lightsaber, striking down banthas and Sandpeople into bantha fodder.
If you didn't fulfill your fix of blowing away Jawas in the landspeeder, you're in luck because there is one more stage to wipe them out on your way to Mos Eisley. In Mos Eisley you'll be attacked by stormtroopers on the ground as well as falling from the sky and numerous droids. This is where the beauty and charm of 16-bit graphics begins to shine, with detailed stormtrooper sprites and the desert city landscape. In the Cantina stage, Chewbacca is playable. It is advantageous to select Chewbacca when possible because he begins with a larger health bar and flame blaster (a step up from the regular blaster Luke is first equipped with). Inside the cantina the enemies are comprised of various scum from the movie. All the enemies are pixilated gold in this stage: Greedo, Walrus Man, the horned devil looking dude, there's even the Cantina band playing in the background. The Cantina Fight boss battle against Kalhar marks the beginning of needing to have the plasma blaster to effectively wipe out a boss. It's nearly impossible to avoid hits during boss battles, which means you're basically trading shots until the last man is standing. The seeker, rapid ion, or plasma blaster is almost a requirement to finish off a boss. After defeating the boss, we meet our favorite smuggler Han Solo. Even though Luke's not such a bad pilot himself Han and Chewie are recruited to take Old Ben, Luke, and the droids to rescue the princess on the Death Star. (Alderaan is not included in the video game plot). Inside the Death Star you will face an onslaught of stormtroopers and now Han is playable. He also begins with the flame blaster, but his health bar is not as large as Chewbacca's. This is another stage of tricky platforming. There are openings in the floor that result in death if you fall into. You need to gauge your jumping distance precisely and hope you don't get knocked into one while jumping across by a stormtrooper falling from the sky. After the princess is rescued and the tractor beam is deactivated (surprisingly not by Old Ben) you escape in the Millennium Falcon and retreat to the moon Yavin 4 to hopefully discover a weakness in the Death Star's plans.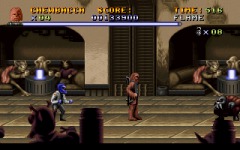 The battle of Yavin is spent mostly on the surface of the Death Star and in the trench piloting the X-Wing. It's an epic battle once you dispatch of the Tie Fighters and Towers on the surface and enter the trench. Inside the trench you will need to focus on shooting the Tie Fighters orange blasts instead of the Fighters themselves. Then enters Vader where your fire needs to focus on the blasts and his ship. There is no Han to save you this time so you must do it alone before firing the torpedo's (the only time the shoulder button is used during the game) in hopes to destroy the Death Star.
To truly love something, you need to accept it as it is, flaws and all. I won't even try to say Super Stars Wars is a perfect game, or that I haven't wanted to pull my hair out after a cheap death getting knocked into lava inside the Sandcrawler, and then have to start at a point where I can only gain one gun power-up. You can't run and shoot at the same time, you need to, "Stop! Blast them!" The double-jump is a bit tricky, especially when jumping forward or backward. Wielding the lightsaber is clumsy and it's nearly impossible to withstand enemy hits to your life bar when battling up close. But I suppose this is realistic since Luke is still learning the ways of the Force, having wasted much of his life picking up power converters at Tosche station. There are plenty of cheap deaths similar to getting knocked into the lava during the boss battle inside the Sandcrawler, or while jumping across hanging rocks to meet Old Ben (although at the 2
nd
set of hanging rocks if you fall off the ledge and enter the cave at the left you can farm 1-Ups up to 99 lives. I was lucky enough to find this on accident). Old Ben is not a playable character and there isn't a lightsaber duel. For first time players or those who don't know about the extra lives trick, it is incredibly frustrating that there is no password or save system. You get one shot, kid.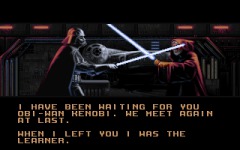 The positives of Super Star Wars far outweigh the nitpicking aggravations listed above. Most of these flaws were corrected in Super Empire Strikes Back and Super Return of the Jedi. In the sequels you can run and gun, the double jump is more fluid, and the lightsaber duel with Darth Vader in Empire is epic. It is a challenging game, even with three levels of difficulty (Easy, Brave, and Jedi) to select from. I've attempted Jedi once and failed miserably. When Super Star Wars was released in 1992, it was the game I had been hoping for ever since I started console gaming. I was able to revisit familiar environments and obliterate enemies from my favorite movie with a plasma blaster. The cut-scenes between levels and musical score made playing it feel like a movie. It was perfect for me, fighting as Luke, Chewie, and Han in the Star Wars universe, expanding the adventures, to where I hope they never end.